Miller Crane – Player Spotlight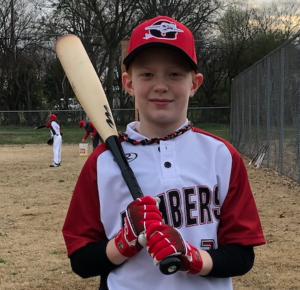 Miller Crane – Bombers 10U (Troutt)
Who is your favorite athlete and why?
"LeBron James because he doesn't crack under pressure."
What is your favorite baseball memory?
"I had my biggest hit of my career recently in a scrimmage against Ocee Orioles"
What is your favorite non-sport memory?
"My parents surprising me with a family trip to Disney World."
Do you have any hobbies outside of sports that you enjoy?
"Video games!"
Do you have any superstitions or pre-game rituals?
"I listen to the same Eminem song to get me pumped up."
If you were stranded on an island by yourself and could only have 5 items (not people), what would you need that you could not live without?
"1.100 Grand Candy Bar 2. Sausage Pizza 3. Nintendo Switch 4. Wifi (haha!) 5. Sprite"
What is your favorite quote or Bible Verse?
"I can do all this through him who gives me strength. – Philippians 4:13"
Finally, who is your hero and why?
"My parents are my hereos because they always support me. They have sacrificed a lot so me, my brother, and sister can do the things we love."