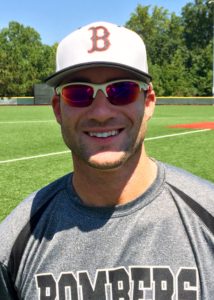 Nic Ungs has 11 years of professional baseball experience between the Florida Marlins and Milwaukee Brewers organizations. This includes four seasons of Triple-A experience with the Marlins. In the past 5 years, Nic has also played over seas including Venezuela Winter League, Puerto Rico, Taiwan and Australia.
Nic was selected in the 12th round of  the 2001 First-Year Player Draft out of the University of Northern Iowa where Nic earned 1st team MVC, Second-Team All-American and MVC Pitcher of the Year as a junior in 2001. Ungs has a minor league career record of 71-56, a 3.64 ERA, and 1237 innings pitched. In Nic's first professional season, he broke, set, and still holds the New York / Penn League record with 62 innings pitched without walking a single batter. His catcher that year for the Utica Blue Sox was Aaron Alvarez, owner of Grand Slam Sports Center. In 2005 Ungs threw a rare No-Hitter in Double A with the Carolina Mudcats.
Nic has one of the best personailities that has ever come through Grand Slam Sports Center and will be a huge asset to Georgia Bombers Baseball. Nic loves teaching pitchers that wish to pitch at a higher level. He was a true student of the game throughout his career and brings a lot of what he has learned to Grand Slam in the way he teaches.

In 2016 Coach Nic took his Bombers 14u (South) team to 35-27-3 record including two Triple Crown Championships.
For the 2016-2017 season, Coach Nic will be taking the Bombers 13u (Ungs) team playing out of Wills Park in Alpharetta.