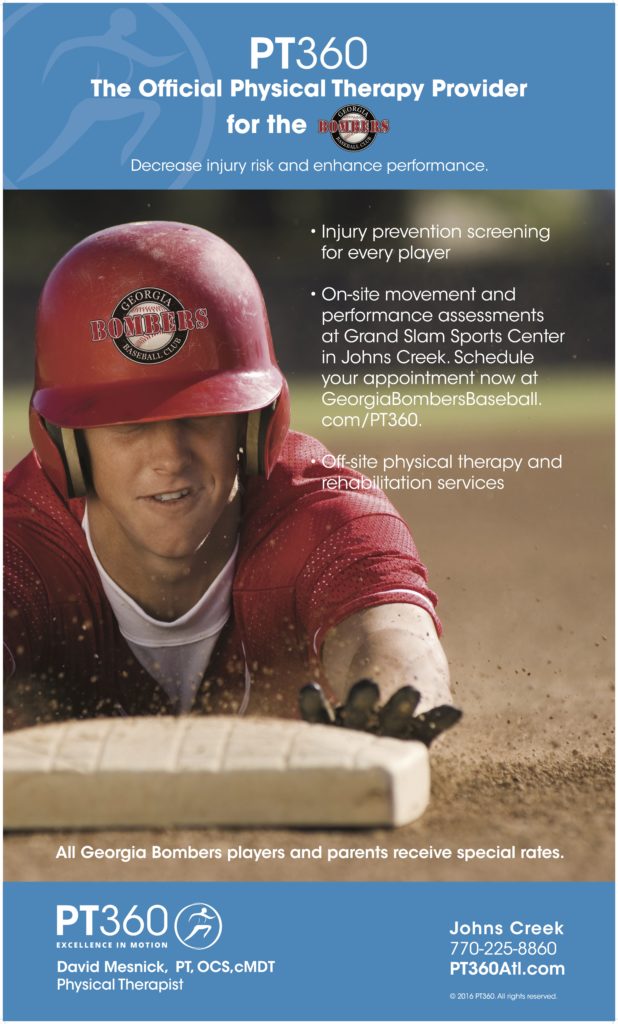 Grand Slam Sports Center, The Georgia Bombers Baseball Club, and PT360 have teamed up to offer cutting edge baseball performance options to help our young athletes maximize their performance and reduce their chance of injuries.
PT360 will provide an individualized approach that includes a thorough assessment of how the body moves and functions. Players will be offered customized options to improve their performance, ranging from performance sessions at Grand Slam Sports Center to full scale physical therapy at PT360's sports rehabilitation center.
All Georgia Bombers will be eligible for a biomechanical assessment to identify problem areas that may be influencing performance. This assessment is based off of the Selective Functional Movement Assessment (SFMA) and is performed by the licensed physical therapists from PT360 (www.pt360atl.com).
Additionally, all players, parents, and coaches will have access to general corrective exercises and videos to address typical concerns. Quarterly in-services will also be available to provide information on the latest advances in baseball injury prevention.
Individualized youth baseball performance sessions with PT360's licensed physical therapists are also available for an additional fee. These start off with a 1-on-1 movement evaluation and treatment. This allows us to create the perfect customized program based on a player's goals, needs, and current ability.  The performance sessions will focus on complete athletic development combining mobility, agility, strength, power, and endurance into one program, with an emphasis on the areas needed to perform well in baseball.
Youth Baseball Sports Performance Program Pricing
On-site performance lessons at GSSC with David Mesnick (Physical Therapist)  
***Currently Available Monday's 6:00-9:00pm
GA Bombers Members                                     $75 per 30-minute session/ $400 for six 30-minute sessions
Non-Members                                                   $90 per 30-minute session
Sign up at: https://clients.mindbodyonline.com/classic/ws?studioid=25525&stype=-9&sTG=17&sView=day
Physical Therapy/Rehabilitation at PT360 (Sandy Springs or Cumming Locations)
GA Bombers Members and Parents                 $95 per visit or $525 for 6 visits
Non-Members                                                   $135 per visit
Schedule an appointment at: www.pt360atl.com