Ty Petrovich – Player Spotlight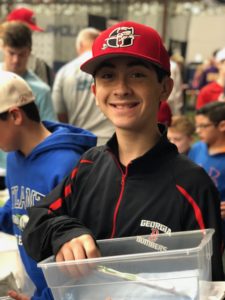 Ty Petrovich – Bombers 13U (Gaines)
Who is your favorite athlete and why?
"I have many athletes I look up to for many different reasons. One athlete I look up to is Noah Syndergard. When he pitches he has great movement on his pitches and when he has a bad game he forgets it and moves on."
What are your main motivations for doing athletics?
I get motivated by working hard because I want to be the best player I can be. As the great Yankee shortstop, Derek Jeter, once said, ""There may be people with more talent than you, but there is no excuse for someone to work harder than you.""
What have been your major highlights or most memorable moments as an athlete?
"Some of my most memorable moments are when I wasn't having a great tournament and I came up to bat and hit a nuke to give my team the lead and get back in my groove. Another memorable moment was when my team was down a few shortstops due to injury and I had to take on the role. In my first game I turned an unassisted double play."
Do you participate in any other sports outside of baseball? If so, what sports?
"I like to play basketball and flag football when I am not on the baseball field."
What is your goal / dream in athletics?
"My goals are to play High School varsity baseball and make it as an underclassman then go on to play in college and then of course the National Baseball Hall of Fame."
Finally, who is your hero and why?
"My parents are my heroes because they've always supported me and taught me the right way to grow up."